TERRI O'DONOGHUE
(Piano and Strings)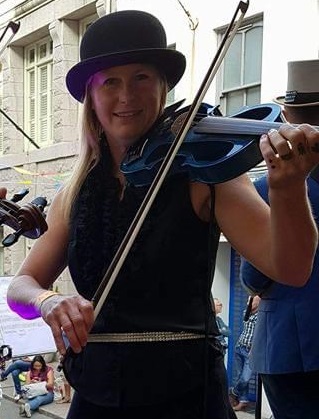 Having started on piano at the age of five, Terri took up flute at the age of eight and by the age of nine years old was also learning violin. As a young teenager, Terri attended boarding school on a scholarship where she was introduced to the viola for a brief period and returned to Jersey at fifteen to complete her education.
Terri later obtained grade 8 Viola, performers diploma on Piano and an Honours Degree at the London College of Music. She returned to Jersey in 1997 for a summer holiday with the intention of returning to London to pursue a career in music, however ended up staying in Jersey to teach piano, violin and viola both privately and in several schools and has also been involved in many school musical productions.
Terri has also been involved in a multitude of performing work, including the Jersey Symphony Orchestra, the St. Cecilia Guild of Strings, the Jersey Chamber Orchestra, Run For Cover, Inside Job, The Jersey Bounce, The Songsmiths and the Jerriais band Badlabeques. She performs on occasion with The Curtain Up Theatre Group who provide regular musical performances to Alzheimer and Dementia residents at various nursing homes in Jersey.
Terri founded and runs the No Strings Attached Quartet in 2003. Always one for keeping up with her musical studies, Terri has been having lessons under Young-Pry Lee since 2015 and has completed and passed her grade 7 and 8 Violin and her ARSM diploma on viola.